Do you have an object that you think might be Newton School that you need help identifying? Do you have information about a worker or information about the School? If so, get in touch using the form below. Scroll down to read Dave Marshall's helpful guide collecting and identifying Newton School pieces.
Collecting Newton School metalwork
Collecting pieces of metalwork by the Newton School of Metal Work is not as straightforward as one would hope. The good news is that the Newton School operated for just over 50 years and was very prolific, producing, most likely, tens of thousands of pieces of metalwork in the Arts and Crafts style.
Many of the early designs produced by the school were by John Williams who had a very distinctive and recognisable style with designs generally including typical Arts and Crafts motifs – flowers and plants, birds, animals or fish. The raised decoration (repousse work) on metalwork produced by the School is also quite distinctive on close inspection.
However, there are many complicating factors. The majority of work produced by the School is frustratingly unmarked. Although work designed by John Williams is often easy to spot it is worth noting at this point that he produced his own work over many years, he also provided substantial support and a significant number of designs to another prolific metalworking class in Ireland, namely the Fivemiletown Class.
To make matters even worse, he had two sisters, Mary and Anne, who were both full time metalworkers for most of their lives and they also produced designs very similar to their brothers. Just when you think it couldn't get any more complicated, the other main designer for the School, George Tanner, was incredibly imaginative and his designs were very diverse and wildly different from one another.
Up until now, not much was known about the metalwork produced by the School as very few pieces were illustrated in periodicals of the time and few pieces were marked. For this reason, metalwork by the School is generally unattributed or, as is more common, misattributed to John Williams or the Fivemiletown Class.
Makers Marks
A small number of pieces carry a paper label clearly identifying them. The labels can also help to date the piece as later ones stated "Founded by the late H.W. Hurrell" dating the piece to after 1926.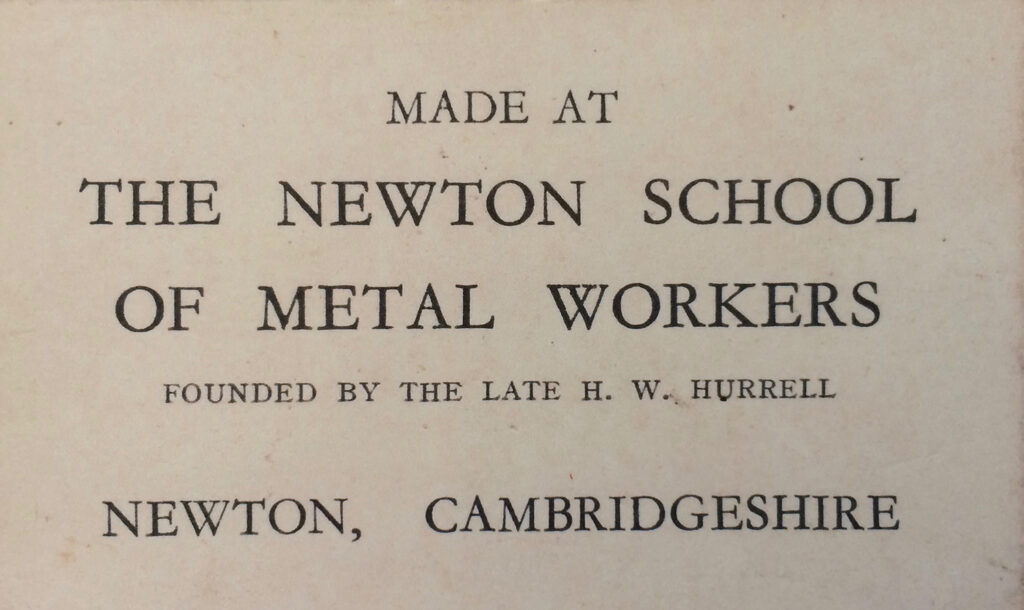 A small number of pieces are fully marked with the makers and/or designers name. The mark is typically inscribed into the back using some kind of inscribing tool or simply scratched by hand.

The other common mark is the personal makers mark for the School's full time tutor, Albert Prime, "A.P." His mark was inscribed on the back of later pieces often accompanied with scratched writing stating it was from the Newton Metal School or the abbreviation, N.M.S.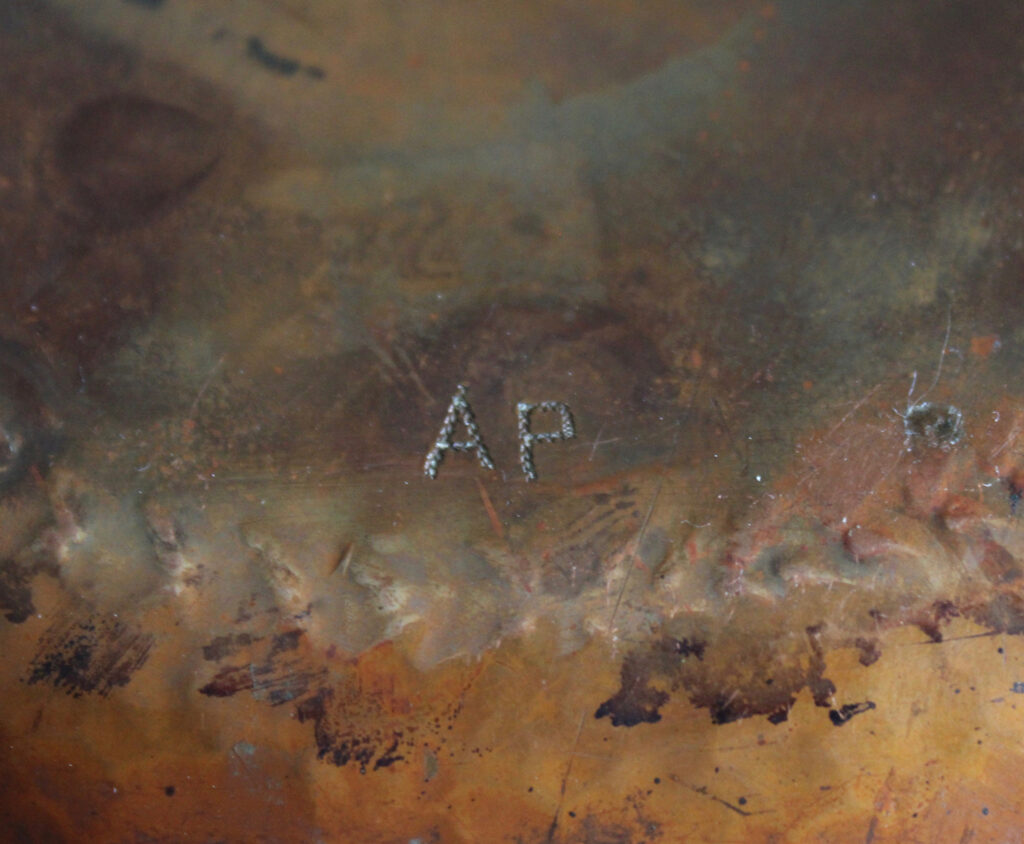 If you look very closely at the back or underside of some pieces you can often see faintly inscribed initials. It was common practice to use marks like these at the School to ensure the metalworkers could identify their own work in progress.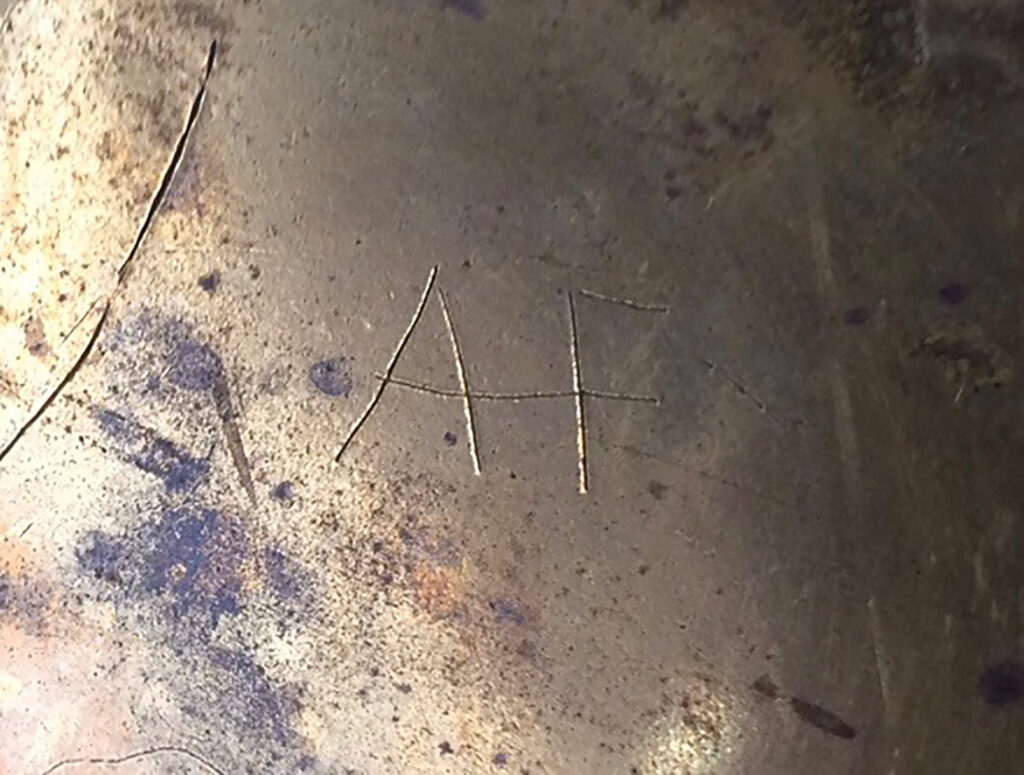 Items were also produced in silver and hallmarked in London. The only identifiable piece found so far was fully hallmarked in London but had the maker's mark of C.J. Plucknett & Co. Like many smaller Arts and Crafts makers of the day, the Newton School didn't have their own registered makers mark and it was a fairly common practice to use a London firm's mark as a mark of convenience.
Designs
As previously stated, the earlier designs by the School are quite easy to identify thanks to William's distinctive style. His foliate patterns with flowers or fruiting pomegranates were all similar in look and his favourite motifs were stylised peacocks and fish.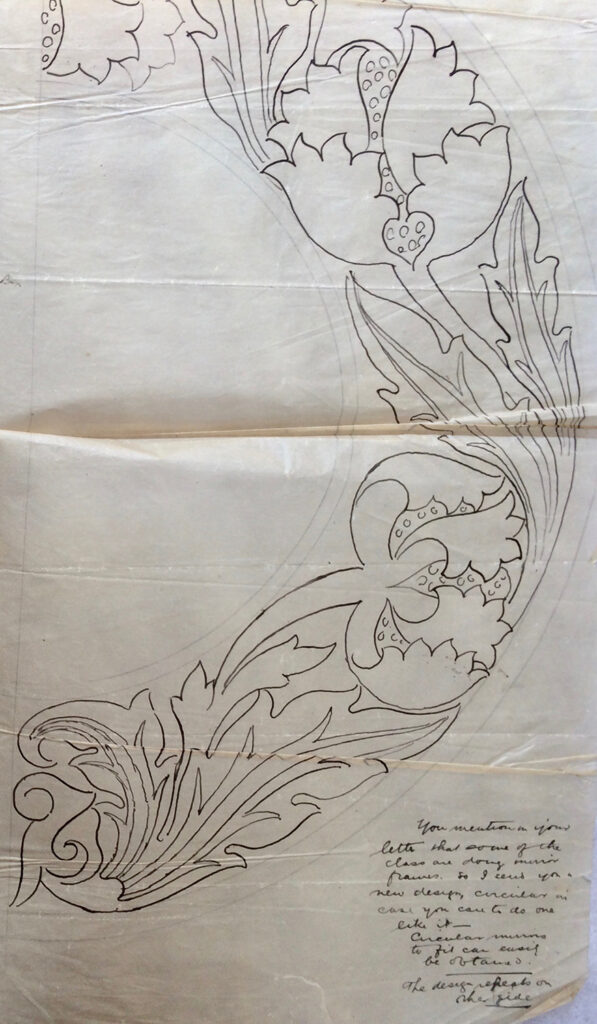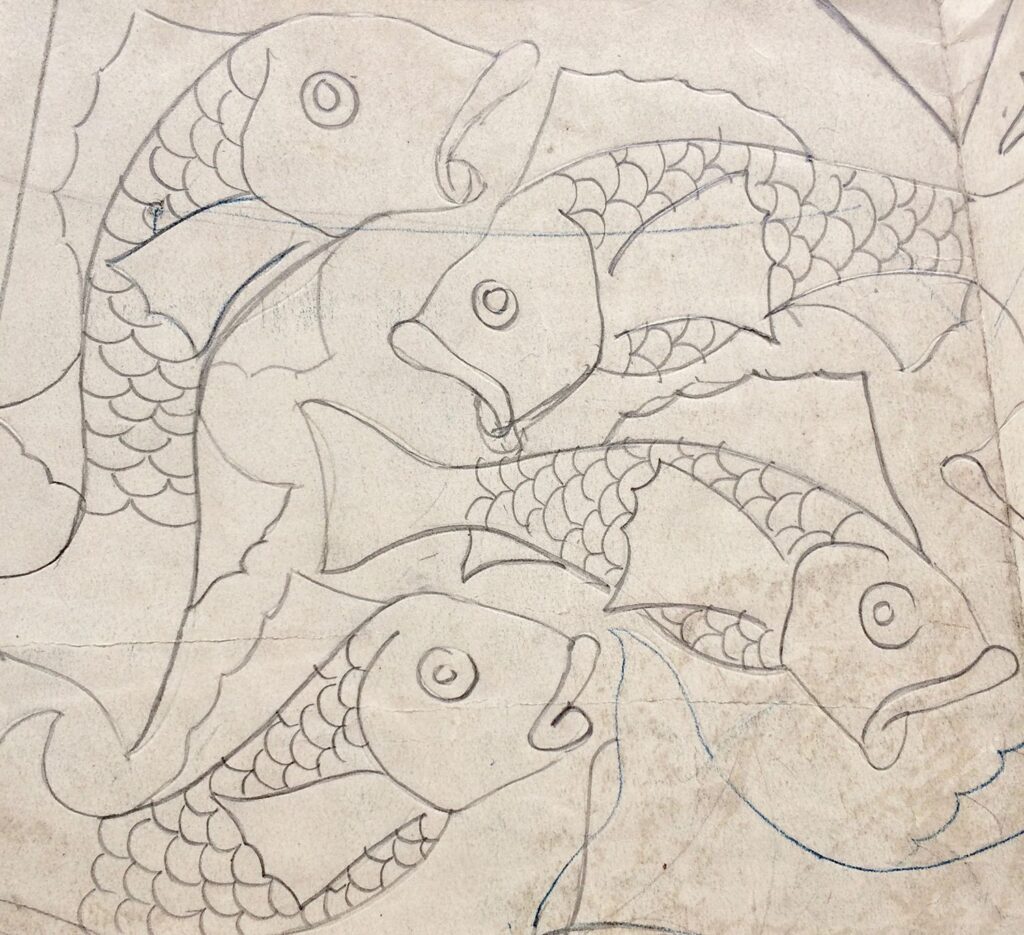 The later work (post 1897) of George Tanner is very different even though he often used similar motifs in his designs. Unlike Williams he had no recognisable style and was clearly a very imaginative man.
The designs by Williams and Tanner were used throughout the life of the School and design from the 1890s and 1900s were still being made by the School until at least the 1930s. As tastes began to change in the 1920s and 30s, Albert Prime also produced some of his own simpler designs.
The Fivemiletown Class Conundrum
The Fivemiletown Class from County Tyrone in Ireland was set up in the 1890s in a very similar way to the Newton School of Metalwork. They were both closely associated with the Home Arts and Industries Association and both exhibited at their annual exhibition at the Royal Albert Hall in London. John Williams and his sister, Mary Williams, supported the Fivemiletown Class through the 1890s and early 1900s. It is well documented that they provided both tuition and designs for the Class.
Both John and Mary Williams were simultaneously supplying designs to the Fivemiletown and Newton metalworkers and so it's hardly surprising that the designs were very similar. To date there is no evidence to suggest that they were provided with identical designs, which makes sense when you consider that they would have had exhibition stands very close to each other at the Royal Albert Hall. However the designs were often very similar and certain design elements, like the crimped edges of trays and dishes, were shared.
The best way to tell the work apart is to look at the repousse work. In general, the Fivemiletown work is crisper and has more fine detail whereas the work of the Newton School is typically in very low relief.