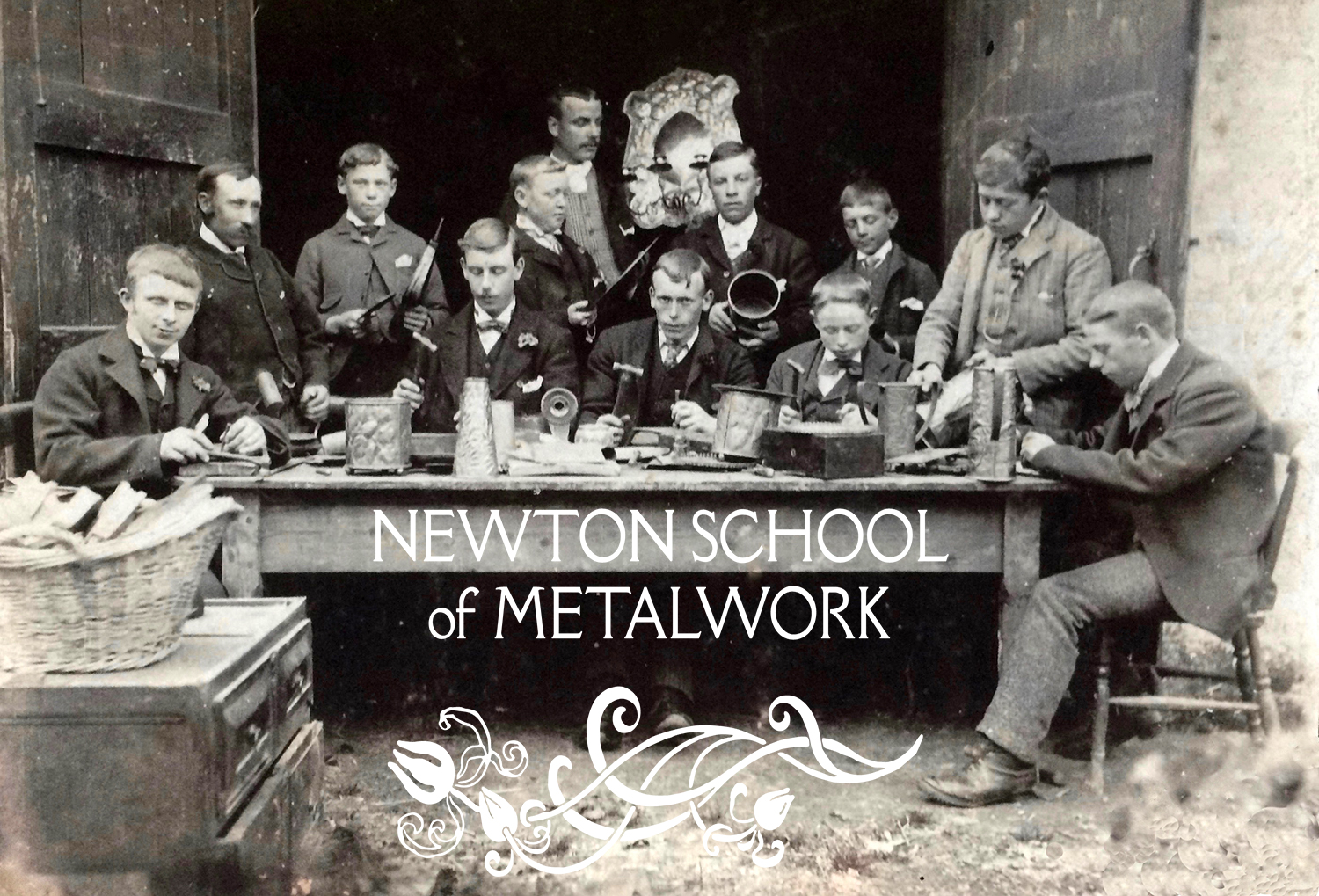 Thursday 2nd June – Saturday 30th July – Free Entry
(open Thursdays, Fridays and Saturdays)
The Newton School of Metalwork began at the peak of the Arts & Crafts Movement as one of numerous classes under the umbrella of the Home Arts and Industries Association (H.A.I.A) but it was one of only a small number of these to become both a thriving metal working school and successful village industry that operated for over half a century. In early 2020, Arts and Crafts dealer, Dave Marshall, made a chance discovery of a piece by the School. Research into this forgotten School led Dave to meet Bob Pluck, a relative of a former tutor at the School. Bob thankfully retained an important archive of designs and photographs and was careful custodian of the memory of the School. This exhibition explores the foundations of this local School, the designers who contributed their expertise and the workers who skilfully executed their designs. 
On display in our Visitor Centre are 47 pieces of Newton metalwork from the private collections of Dave Marshall, The Pluck Family, and John Mooney. This is a unique opportunity to see this stunning collection which is a testament to both the founders and to the many workers who created them. Find out more about visiting the exhibition here.
As a complimentary resource to our physical exhibition we have created this digital resource where you also explore each of the objects and discover the rich archive of design history and workers behind them. You can also learn more about the Newton School through our timeline, by watching our Online Exhibition Talk with Dave Marshall, and reading the Dave's article on the Newton School of Metalwork.
All the pieces provided by Dave Marshall are for sale, so you can own a piece of Newton School history yourself. 20% of the purchase price goes to David Parr House. Prices for each piece can be found on the  object pages.
To tie in with the exhibition we have an exciting programme of talks and workshops during May, June and July around themes explored – check out the latest events here.
As a small charity it is wonderful to showcase a local Arts and Crafts stories and working class history. In order for us to continue sharing these stories please consider making a donation.
We would like to thank Dave Marshall for all his work on this exhibition and sharing his research so generously, and the late Bob Pluck for being the careful custodian of the archive and memory of the School. Thanks also to the Pluck family for allowing us to use the objects and archive, John Mooney of Riro Mooney Antiques for loaning objects and the Decorative Arts Society for allowing us to republish the article. This exhibition is in memory of the late Bob Pluck.