Bob Pluck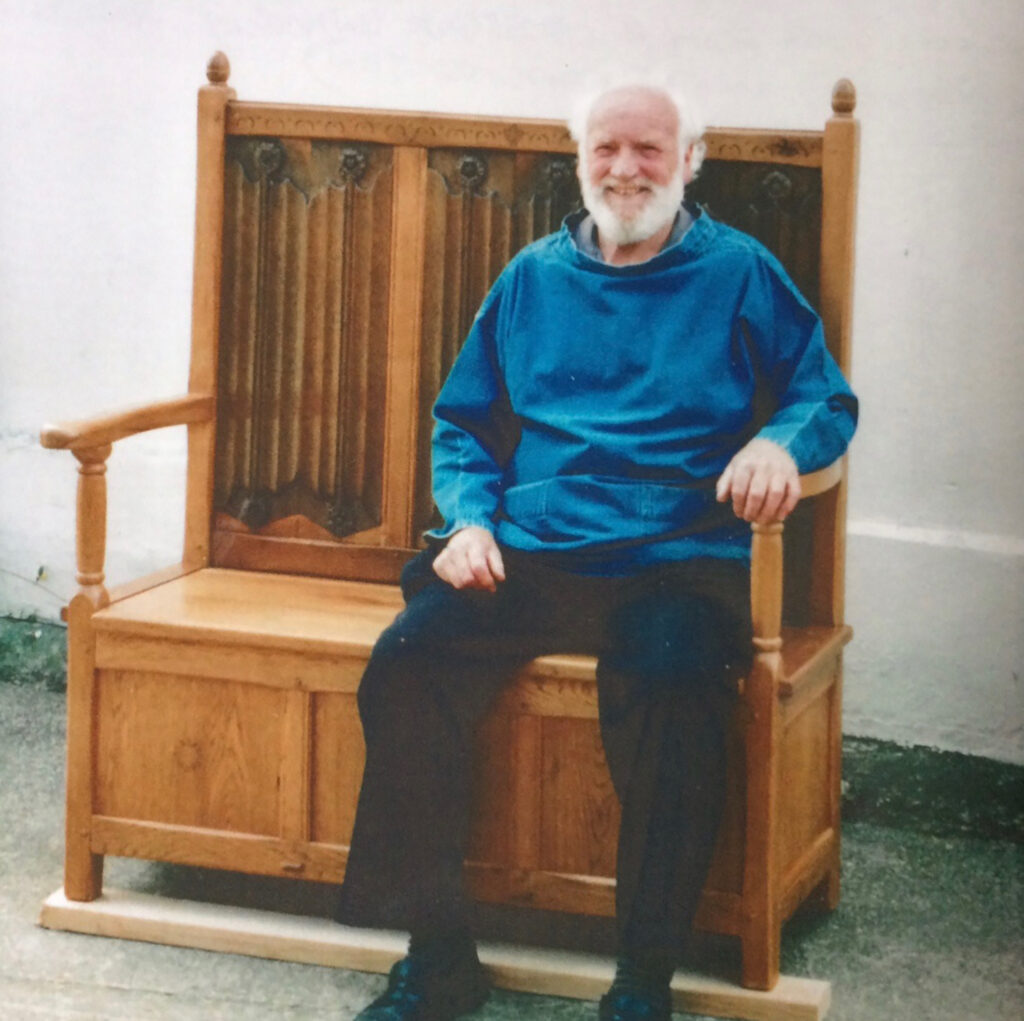 Bob Pluck was born in Newton, Cambridgeshire, in 1934. He lived for many years in Old Coach House Lane a few doors down from his great uncle, Albert Prime. Bob had vivid early memories of going into the air raid shelter at the bottom of the garden with his mother and Albert during the Second World War, his great uncle never seemingly concerned. During his early teenage years, Albert taught him metalworking in the workshops and Bob remembered him fondly as a very skilled and patient teacher. Bob himself became very proficient at repousse work, a skill he used occasionally used during his life to produce his own metalwork. It was an early indication that he would go on to become a multi-skilled craftsman.
After a short stint in the RAF as part of his national service he met his wife, Anne, at his younger brother's wedding. She just happened to be the sister of the bride so two brothers married two sisters! Anne was Welsh and the couple lived in Wales for several years during the 1960's with Bob working as a General Foreman in a Building Company.
In the early 1970's Bob and his family moved back to the village of Newton, eventually moving into "Kidman's Cottage" on the very corner of Old Coach House Lane. The house had been the village shop and a bakery plus known Newton School worker, Jimmy Kidman, had lived there for many years. Bob continued to work in the building industry for many years. He was known for being multi-skilled and for his ability to turn his hand to almost anything. If there was a difficult job or something complicated to fix, Bob was the go to person and he was often was called upon by the Hurrell Estate. Bob ran his own businesses including "Newton Wood and Metal Craft" later in his career and was involved in restoration work. 
Bob's great love was motorbikes and he owned and raced bikes for many years leaving him with many a story to tell. He was also interested in antiques after striking up a relationship with Riro Mooney (Riro Mooney Antiques) during the 1970s. Bob did restoration on pewter items for Riro and would often help identify pieces of metalwork from local house clearances that looked like they may have come from the Newton School.
Sadly Bob passed away in 2021 after a short illness. As well as being fondly remembered by his family and friends he has left a legacy through the information he rescued associated with the Newton School of Metalwork. Bob was very interested in local history and recorded and saved everything he felt was important. Vital history is so easily lost and in this instance we own Bob a huge debt of thanks for enabling us to tell the story of the School so well.